TimConLAN 8 Results & More 9 December 2019
TimCon on Tour. Our first European event was a great success, with a full 20 players in attendance it was sure to be. When I first arrived at the Esports Game Arena located in the soon-to-be-not-very-quiet town of Alphen a/d Rijn it was not exactly as I had expected. The first thing you see when you walk in is the bar, this was good news to me as I'm sure it was many others. Facing the bar you have a casual seating area stocked with board games and three full sized pool tables. Excellent.
As with any good 1980's-themed hair style the party is firmly in the back. There, you will find an array of twenty high-end gaming PCs, each one equipped with a 144hz monitor, gaming chair and a desk built for actual humans. This place is exactly what we were looking for, better actually. Anyway that's enough scene setting for now, lets talk about what you really came here for.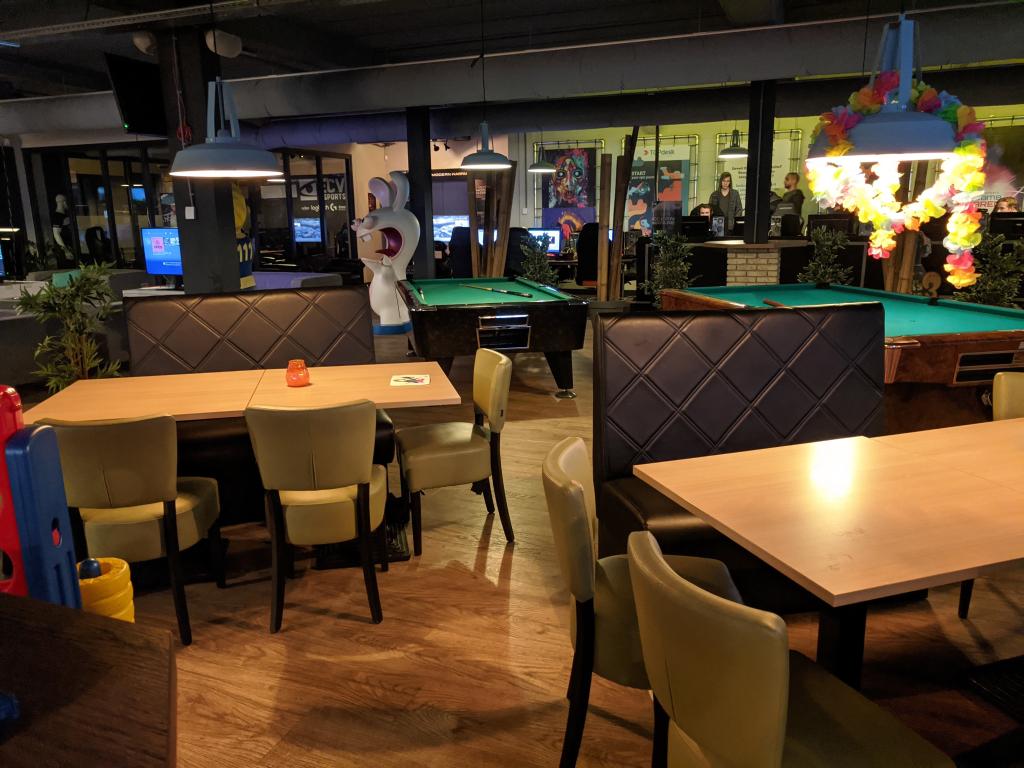 Days one & two featured the cult classic Quake III mod; Challenge ProMode Arena and who better to showcase the game for us than previous TimCon attendees such as gaiia, kane, panikborke and BANNED gamer oni. Going up against event newcomers Terifire, Bjarke, promEUs and last but certainly not least, crouchslide cup champion Danskq.
The group stages saw a slight upset when we had a three-way tie in Group B (my fault entirely) between Danskq, Bjarke and kane. However after replaying a few matches the results were clear. Bjarke and Kane would go through to the playoffs and Danskq would be sent straight back to the bar, although not unhappily. Group C also had some drama as promEUs took a strong 2-0 win against BANNED gamer oni, which included his signature map cpm22. oni's day took another turn for the worse as he also took an L from his arch nemesis Terifire, but vowed to do better next time. Terifire has since unbanned Oni from the CPMA discord and they now have a beautiful friendship, everyone wins in the end.  This did leave the Lad from London free to cast some matches on stream though which is always a treat;
Day two bore witness to a fantastic playoff stage with titans gaiia and Terifire meeting up in a best-of-five winners bracket final. To much surprise, the Flying Dutchman took down previous TimCon Champion gaiia three to one but that wasn't the end for the half-drunk Finnish powerhouse, tearing through the lower bracket final against another TimCon Champion. Commiserations to kane as he took third place.
Once again the two titans went head-to-head, Terifire versus gaiia in a best-of-seven Grand Final. Every other player seemed to drop whatever they were doing and rush to huddle behind the players to watch the magic happen (not without a quick trip to the bar first, of course.) Six grueling maps later we had our champion, to literally no-ones surprise, gaiia once again asserted himself as the greatest CPM player on LAN.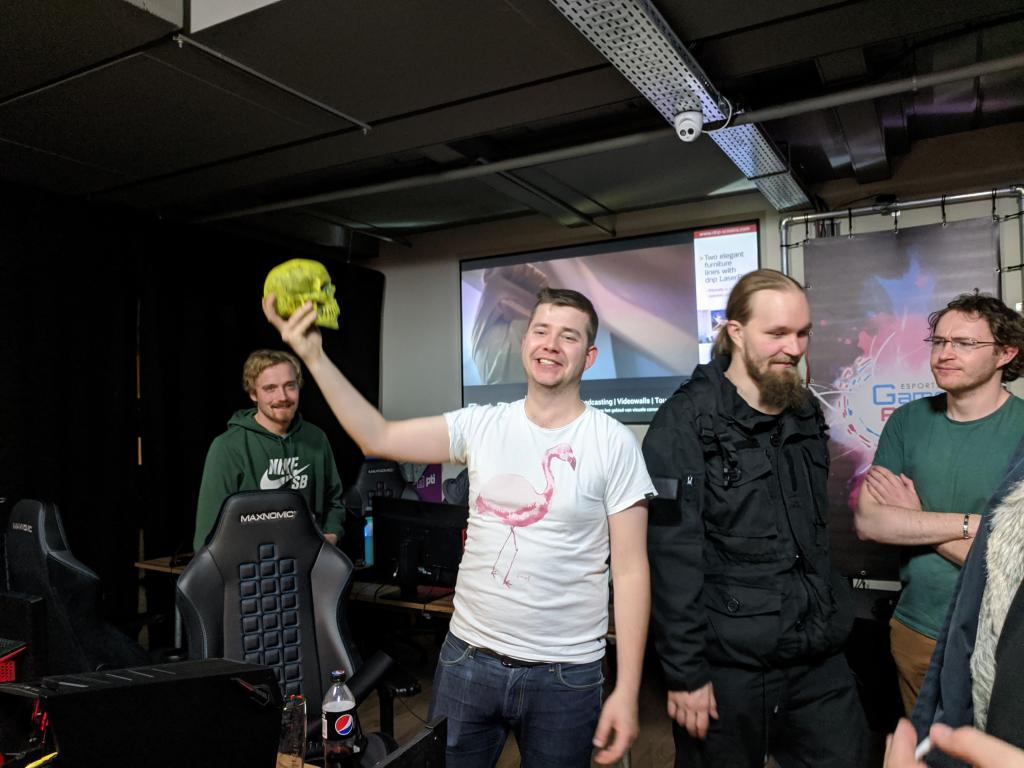 Days three & four had absolutely nothing, though. Nope, not a single thing happened….
Except of course for the second ever (yep) DIABOTICAL 1v1 tournament at TimConLAN. With a huge thanks to James '2GD' Harding and the rest of the crew at TheGDStudio as they granted us access to the alpha version of the game for the second time at a TimCon event.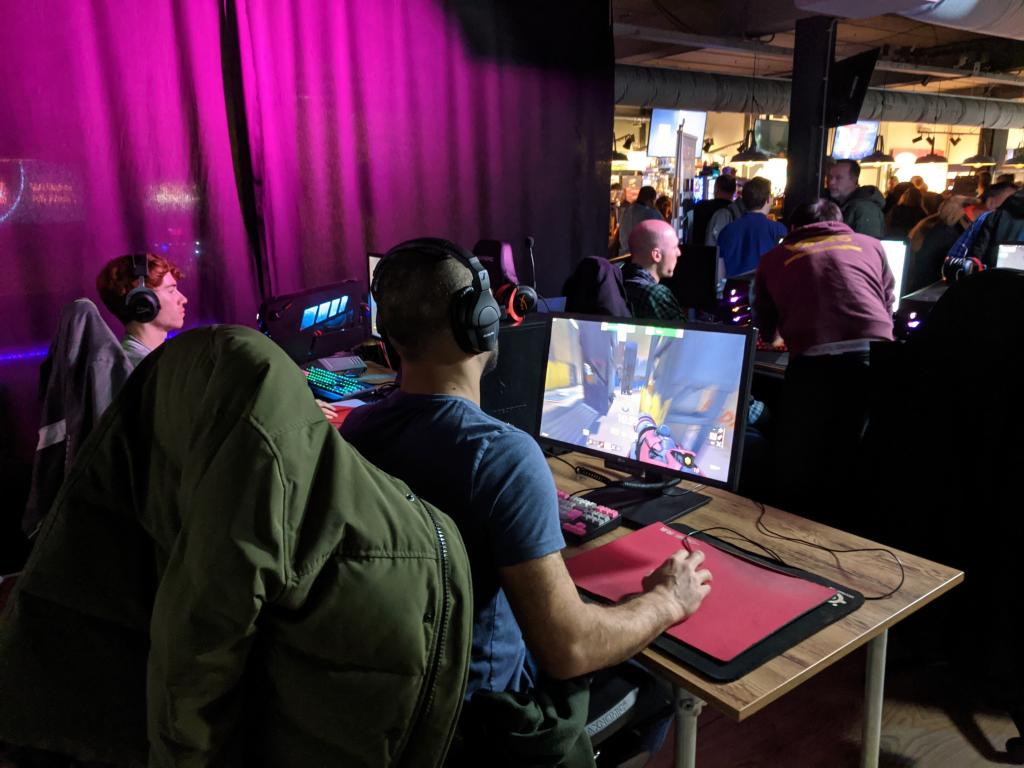 With every single player in attendance signed up for the cup it was sure to be a great tournament. Including map maker extraordinaire promEUs and his partner in crime Bjarke, previous DBT finalists STINKLIKESOCK, kane and nerVzzz. Of course who could forget the fantastic Finnish fellowship that is gaiia, Danskq and ch1llma.
It wasn't all serious business through, we did have a very Dutch experience when Sinterklaas and his band of blackfaced companions gatecrashed the venue with an army of candy-throwing children.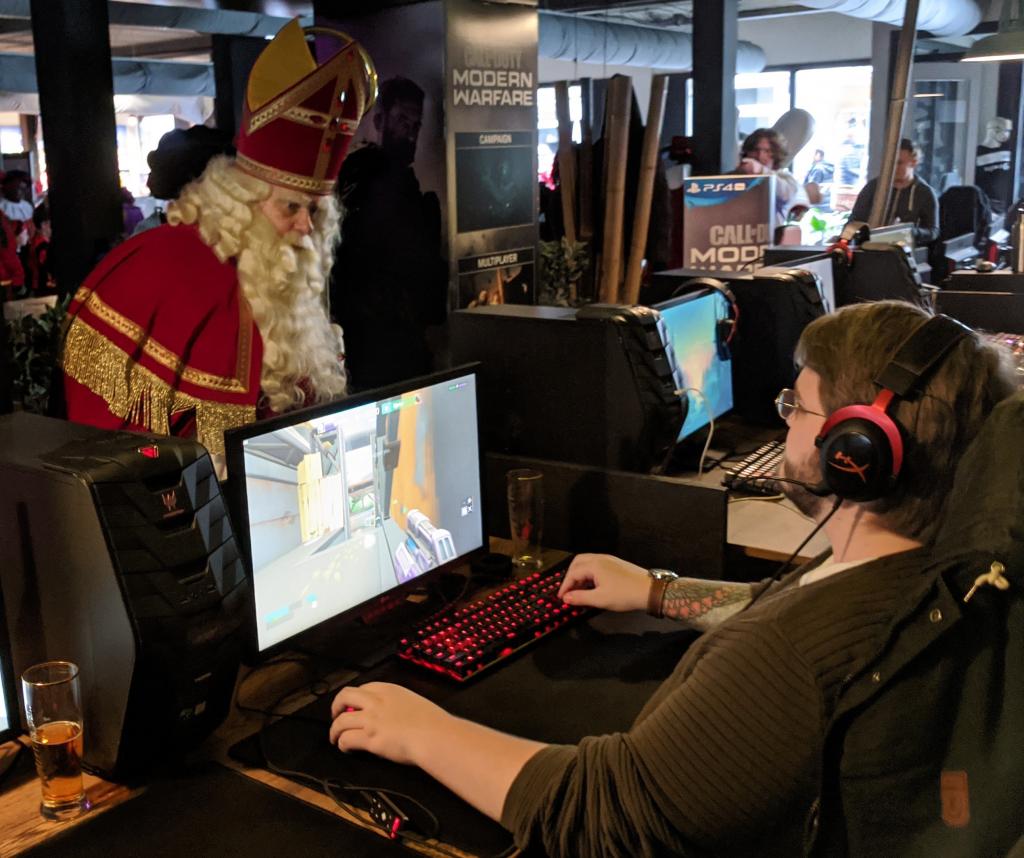 The players wasted absolutely no time setting up for this one, understandably we were all very excited to sink our teeth into Diabotical on LAN. The group stages saw the usual suspects rising to the top. Naturally the previous champion STINKLIKESOCK made it through with ease, following him were close friends and fellow TimCon OGs nerVzzz, CropCircles and Lord Jellington. The Finns were not without representation of course. gaiia and Danskq rolled over the competition on their way to the playoffs, not without a little heated drama between Stink and Danskq though…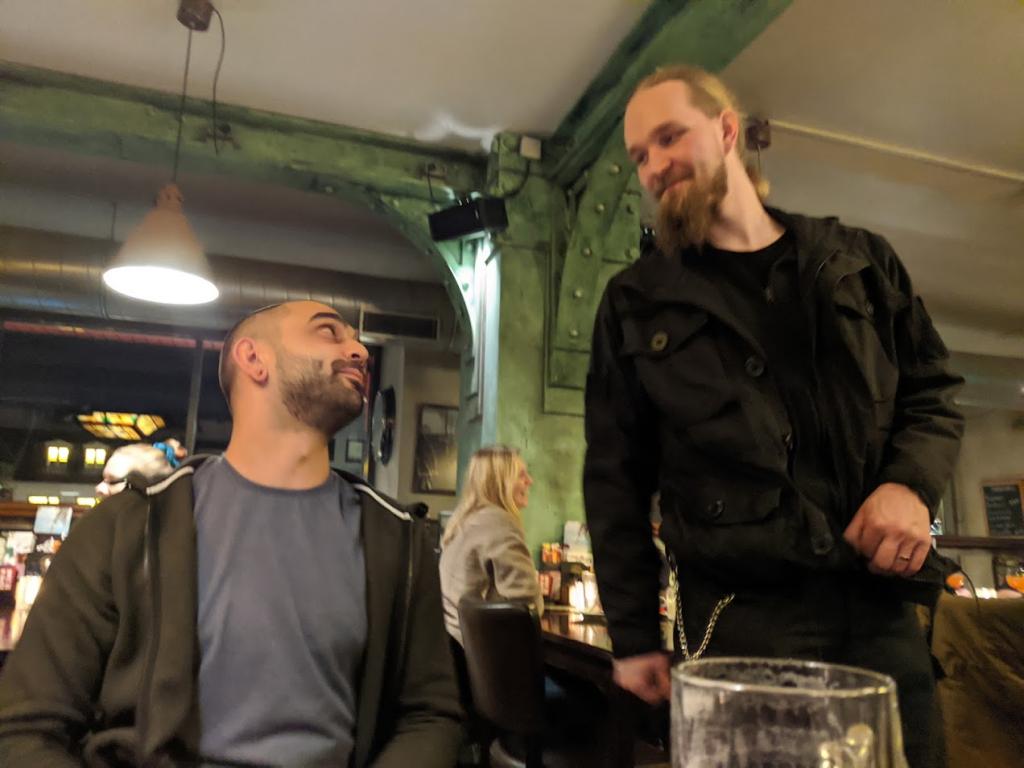 Up and coming German player Taka, representing Arctic eSports made it through his group along with Big 'Bjarke' Johnson. Most group games came down to a 2-0 but none of them were easy by any means, most players still finding their feet in the soon-to-be-released Arena FPS savior we all deserve. With the group games finished it was time to collect our Weebles as we jumped right into some Wipeout friendly matches until closing time.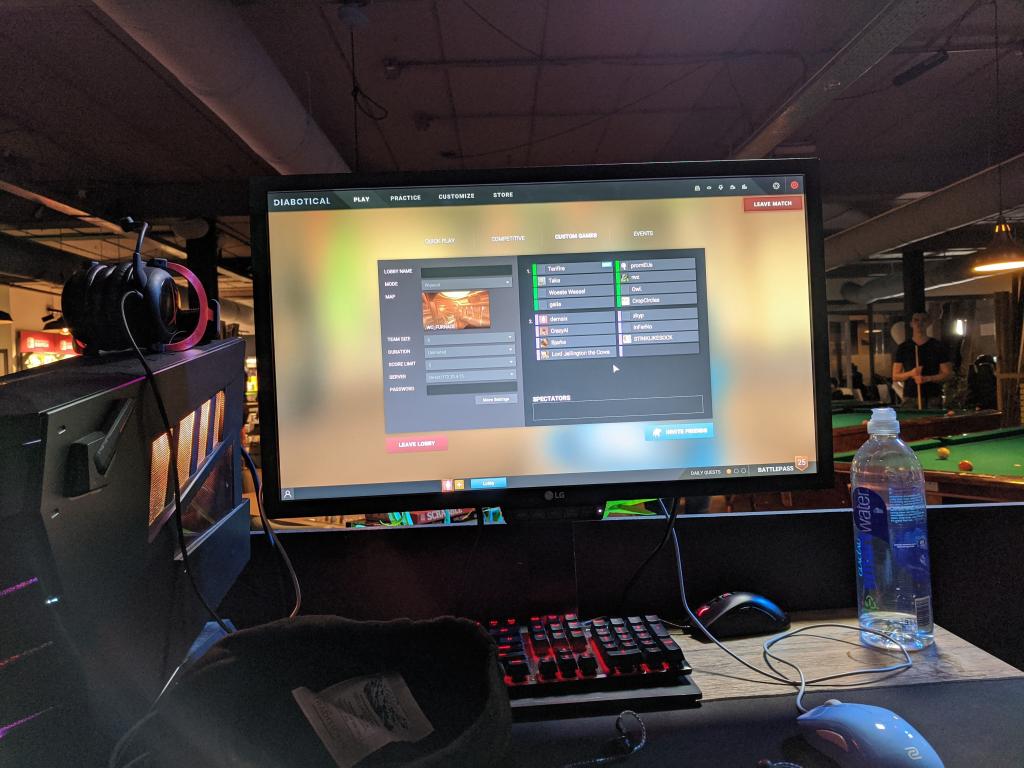 In the final day of TimCon 8 it was time to decide who was the greatest Diabotical player in the building. Such events are not without upset though as we saw players like Stink, Bjarke, Terifire, Taka and nerVzzz all drop out of the lower bracket. Once again, as expected, gaiia tore through the winners bracket without losing a single map. This story is becoming a bit tired, isn't it? Danskq thought so too as he came back from the lower bracket and absolutely dominated gaiia in the double best-of-five final. He had promised to defile STINKLIKESOCK the night before but it turned out to be an unrelenting team kill as he put gaiia down 6-0. Diabotical's Golden Frag mechanic saw Danskq coming back from several frag deficits to take the win in quite possibly the most well deserved fashion ever witnessed at a TimConLAN event.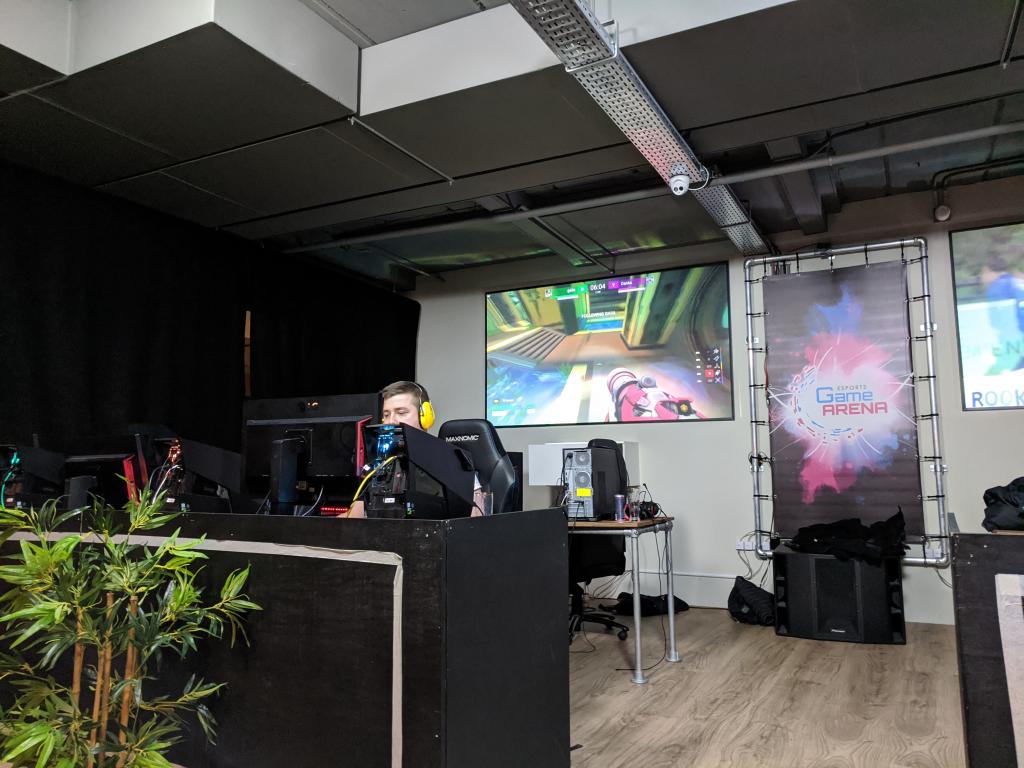 As this was the first event at our new location, things were a little rough around the edges as expected, but we'll be returning to the beautiful little town of Alphen aan den Rijn sooner than they expect for our ninth event. With any luck Diabotical will actually be released by then. To find out when that will be you can follow us on Twitter and join our Discord for the latest updates.
Finally I would like to say a massive thanks to everyone who attended. The fantastic staff at the Esports Game Arena for being so helpful, everyone at TheGDStudio for letting us play their game, especially Raven for being on hand for tech support during the event and last but not least TimCon OGs GMT and Kristus, two of my best friends, for making an unexpected cameo appearance.